DCU participates in the first Mind the Lab event organized in Athens
Date: 2017-02-23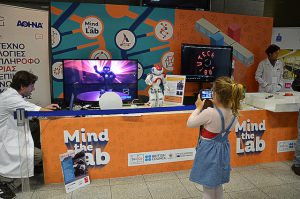 Mind the Lab is an innovative scientific event which was organized by SciCo in collaboration with the British Council (Athens) and Technopolis (Municipality of Athens). The event, which was also supported by the Onassis Scholars' Association and the People's Trust, took place in selected metro stations in Athens, Greece, on February 3, 2017.
The main idea behind this event is to communicate science in a place which is largely associated to everyday life and is used by thousands of citizens. Digital games, scientific "snapshots", experiments and exhibits were but some of the various activities presented in the metro stations of Athens by young scientists, researchers and teachers.
R.C. Athena and DCU participated in this initiative with two activities. Our colleague Eliza Papaki (DCU) invited the public to engage with "Click and Learn", an interactive game which is testing the participants' knowledge on culture (art, literature) through a mobile device (tablet), while Agelos Giokas and Vasilis Katsouros (ILS) presented "Vlassis", the dancing robot!
The digital games presented by DCU were developed in the context of  the project ARK4 and they are built on cultural heritage assets retrieved from Europeana. These games target young users as well as the general public. Through the interactive quiz "Europe an me" the younger passengers of the Athens metro were invited to test their knowledge about Europe while older passengers had the chance to test their knowledge on art and art history through the interactive game "Art and Drop".
You can find photos of the event here.