Antonios Deligiannakis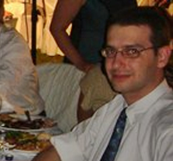 Welcome to my personal web page at the Digital Curation Unit (DCU), which I joined in 2007. I am currently an assistant professor at theDepartment of Electronic and Computer Engineering of the Technical University of Crete(TUC). Previously I was an Instructor at theDepartment of informatics and Telecommunications at the University of Athens(UoA). Before coming to UoA, I studied in theDepartment of Computer Science at theUniversity of Maryland , where I received my MSc (1999-2001) and PhD (2001-2005) diplomas. I graduated from the Department of Electrical and Computer Engineering of the National Technical University of Athens (1994-1999). My expertise lies in the area of Databases, and in particular in the areas of Data Warehousing, Data Compression, Data Approximation and Sensor Networks.
At the Digital Curation Unit I work at the area of database preservation and database compression. Besides the related research work that I have performed in the areas of Data Warehousing and Data Compression, of particular relevance to my tasks in DCU is my work as an intern at AT&T Labs – Research (2003). In that work I designed and implemented a versioning file system on top of a relational engine. My libraries are at the core of the Virtual Integration Prototype (VIP), a search engine over AT&T\'s Legacy Applications (ordering, billing, provisioning, inventory). In 2003 VIP served around 25 million user queries. While drawn from an entirely different domain, this work shares several characteristics with the needs of a database preservation system, not only because of the sheer size of the stored data, but also because the process of digital curation generates multiple versions for each stored digital object.
I participate in the program committee of the Networking Meets Databases (NetDB \'08) and the International Workshop on Sensor Network Technologies for Information Explosion Era (SeNTIE2008) . In the past I have participated in the program committee of the ACM International Workshop on Data Warehousing and OLAP (DOLAP) 2006 , and at the International Workshop on Data Intensive Sensor Networks (DISN) 2007 .
My publications can be accessed from my web page . A selected list of publications is presented below:
Hierarchical Dwarfs for the Roll-Up Cube Yannis Sismanis, Antonios Deligiannakis, Yannis Kotidis and Nick Roussopoulos In Proc. of the DOLAP Workshop (held in conjuction with ACM CIKM\'03), New Orleans, LA, USA, November 2003
Dwarf: Shrinking the PetaCube Yannis Sismanis, Antonios Deligiannakis, Nick Roussopoulos and Yannis Kotidis In Proc. of the ACM SIGMOD International Conference on Management of Data, Madison, Wisconsin, USA, June 2002
Extended Wavelets for Multiple Measures Antonios Deligiannakis and Nick Roussopoulos In Proc. of the ACM SIGMOD International Conference on Management of Data, San Diego, California, USA, June 2003
Compressing Historical Information in Sensor Networks Antonios Deligiannakis, Yannis Kotidis and Nick Roussopoulos In Proc. of the ACM SIGMOD International Conference on Management of Data, Paris, France, June 2004
Extended Wavelets for Multiple Measures Antonios Deligiannakis, Minos Garofalakis and Nick Roussopoulos ACM Transactions on Database Systems (TODS) , Vol. 32, No. 1, March 2007
Dissemination of Compressed Historical Information in Sensor Networks Antonios Deligiannakis, Yannis Kotidis and Nick Roussopoulos Accepted for publication to the VLDB Journal, 2006