Ion Androutsopoulos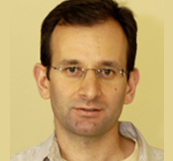 I am a Research Fellow of the Digital Curation Unit and also an Associate Professor in the Department of Informatics of the Athens University of Economics and Business (AUEB).
My expertise is in Artificial Intelligence, and especially Natural Language Processing. My current research interests include the following topics:
natural language question-answering for databases, ontologies, document collections, and the Web,
natural language generation from databases and ontologies, especially Semantic Web ontologies,
text summarization, including sentence compression,
paraphrasing and textual entailment, and their use in question answering and text summarization,
document classification, including hierarchical text classification and spam filtering,
natural language processing tools for Greek, for example part-of-speech taggers and named-entity recognizers,
machine learning in natural language processing,
natural language processing in digital curation.
For more information, including my publications, please consult my personal Web pages.