DCU at DH2016, Krakow
Date: 2016-07-22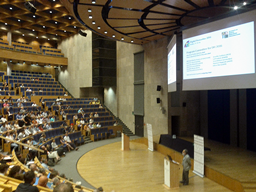 The Digital Humanities community met once again at the Digital Humanities Conference, held this year in Krakow, on 11-15 July. This year, the Digital Curation Unit participated in the conference with a workshop, two long papers and four posters.
NeMO, the ontology for digital research methods in the arts and humanities developed in the context of the NeDiMAH project, was the focus of many DCU submissions. The workshop "Ontology-Based Recording and Discovery of Research Patterns in the Humanities", by P. Constantopoulos, C. Dallas, L.Hughes and S. Ross, aimed at engaging the participants in the process of developing and analyzing ontology-based, structured documentations of scholarly research practices, predominantly those in the (digital) humanities. Based on NeMO, participants were invited to contribute one or more examples of their own research work. Those were used in order to produce structured descriptions, explore the formulation of complex associative queries and share feedback regarding their experience from using NeMO.
Apart from the workshop, DCU participated in DH2016 with the following papers and posters:
Constantopoulos, P., Hughes, L., Dallas, C., Pertsas, V., Papachristopoulos, L., Christodoulou, T., Contextualized Integration of Digital Humanities Research: Using the NeMO Ontology of Digital Humanities Methods.
Susan Schreibman, Agiatis Benardou, Claire Clivaz, Matej Durco, Marianne Huang, Eliza Papaki, Stef Scagliola, Toma Tasovac, Tanja Wissik,#dariahTeach: online teaching, MOOCs and beyond.
Agiatis Benardou, Valentine Charles, Nephelie Chatzidiakou, Panos Constantopoulos, Costis Dallas, Ana Isabel González Sáez, Sergiu Gordea, Lorna M. Hughes, Themistoklis Karavellas, Gregory Marcus, Leonidas Papachristopoulos, Vayianos Pertsas, Scholarly Research Activities and Digital Tools: When NeMO met FLOSS.
Agiatis Benardou, Alastair Dunning, Stefan Ekman, Vicky Garnett, Caspar Jordan, Ilze Lace, Eliza Papaki, Reflecting On And Refracting User Needs Through Case Studies In The Light Of Europeana Research.
Angeletaki, A., Benardou, A., Chatzidiakou, N., Papaki, E., Playing With Cultural Heritage Through Digital Gaming: The New Narrative of the ARK4 Project.
Eliza Papaki, James O'Sullivan, Antonio Rojas, Curating Community: Building A Communications Strategy For The European Association For Digital Humanities.